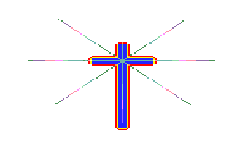 Why be a Christian? You may get a lot of different answers to this question. Ralph Martin shares the intriguing right answer to this question and how he arrived at it.

ANNO DOMINI - Is this "the year of our Lord" or just a year of the "common era"? Read about the difference and what you can do. You can also request an email copy to forward to others. (we do not sell, rent, or trade your email address)

How many Gifts of the Holy Spirit are there? Would you believe at least 30 are identified in Scripture? You can do a Bible Study on the Gifts of the Holy Spirit.

Responding to Holy War. Is Islam a religion of peace? What is the meaning of Holy War? What can Christians do to respond to the Holy War that is being waged against them? Here are resources to help answer those important questions. Books about Islam.

P.R.A.Y. is a memory help to encourage us to include in our prayers different elements, not just asking for something.

What would the Apostle Paul say to Christians today? See A Letter of Paul to Christians for one possibility.
To receive notices of updates and changes to the eTidings site Go to the general list information page or send an email
For your protection, you will be asked to confirm your subscription to the update list.
Email a friend about this page
Tidings is a non-profit corporation supported by unsolicited contributions.